Welcome to Day 27 of...
Only 4 more days of this anti-lazy craziness! I can't hardly believe it. What will I do with my time when this is all over? Will I go back to my lazy ways? I hope not.
For the last week and a half, my garage has been a spray paint dust disaster area. I haven't been able to park my car in the garage because I didn't want it to get filthy disgusting. Now that my OMTWI Krylon project is done (hallelujah!), I spent some time cleaning the garage. I was just going to vacuum up all the dust and give the floor a good once-over with the Swiffer, but you know how it is... once you get started, it's hard to stop!
Before, after I had already started ShopVac-ing the floor. See all that dust everywhere? Gross!
And after! It may not look like much but when all of our junk is pushed toward the walls, our garage feels twice as big!
We need some major organization in here... not to mention the walls and floor painted, but that's all for another day! We actually got a quote last spring, but it was too high and kind of stalled our plans. Someday maybe we'll be brave enough to tackle all that sanding ourselves... ack, I'm getting hives just thinking about it!
We tend to let stuff collect in the space between our cars which makes maneuvering around the garage quite the obstacle course.
Junk cleared... much better.
This corner is pretty hopeless, but I did what I could...
Now, I can't believe I'm showing the whole world this, but maybe you have the same problem? Do any of you have windows in your garage where all the spiders and critters like to congregate?
Eww. I wouldn't really worry about it except you can kind of see all the cobwebs and insect carcuses from the street. Not cute.
Not perfect, but better.
For the piece de resistance...
Oh my gosh, ewwwww.
I'm glad I took the time to do this before we all go into winter hibernation mode. But to tell you the truth, all those dead bugs kinda grossed me out too much to do the other window. Perhaps I will get the courage soon.
Also, don't forget about the Creepy Crawl!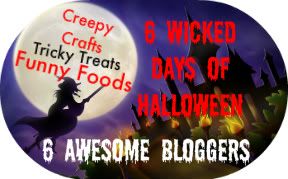 Today, Bonnie at
A Wee Meenit
is sharing her Halloween creation!
In case you missed it,
Marilyn
shared a Creepy Critter Juice on Tuesday and
Jessica
shared a festive Halloween centerpiece yesterday!
Don't forget to check out these ladies the rest of the week for more Halloween goodness!
Sunday: Break for Project Pink
Monday: ME