If you're just joining me, I'm participating in
Nester
's 31 Days of Change series with a pledge to kick my lazy ways and get some stuff done this October. Welcome to Day 26! You can find the rest of my 31 Days posts
here
.
I was in a style rut all summer long. Summers do that to me... why try to look cute if you're just going to sweat through your shirt and makeup? Especially with my job where I spent a lot of summer afternoons playing outside with kids. It's impossible not to get dirty and sweaty. Plus I pretty much hate my summer wardrobe... always have.
Anywho, to try to get out of this rut, I have decided to rejoin Lindsey at The Pleated Poppy for her weekly What I Wore Wednesday. Hopefully I'll start putting more effort into actually getting dressed instead of throwing on whatever t-shirt is laying around.
Pardon the poor photos this week! I didn't take the time to clean my mirror, plus I leave when it's still dark outside, thus no natural light.
I love this argyle cardi!
Tank: American Eagle
Striped Shirt: Gap (an oldie but so comfy!)
Cardi: The Limited (I think... may be Express)
Jeans: AE
Shoes (hard to see but they're brown loafers with a wedge heel): Belk
Tank: Dick's
Cardi: AE (thrifted)
Jeans: AE
Shoes: Payless
Tank: Old Navy
Shirt and Jeans: AE
Shoes: Crocs
Also, don't forget about the Creepy Crawl!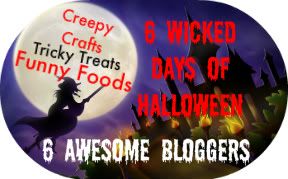 Today, we're joining Jessica over at
Hill Country Homebody
for a festive Halloween centerpiece!
Don't forget to check out these ladies the rest of the week for more Halloween goodness!
Sunday: Break for Project Pink
Monday: ME