I've alluded to my 31 Days series quite a lot these past few weeks (and it has been the reason that I've posted so infrequently this month), but today is the day I'm finally ready to announce the topic!
Beginning next Monday, a week from today, I'll be starting 31 Days of Shut Up and Sew!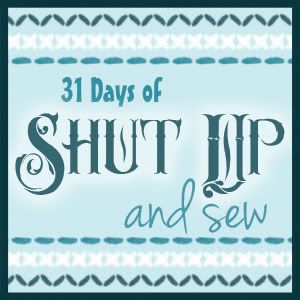 I've realized that the only way to learn new skills is through practice, practice, practice. Instead of complaining that I wish I knew how to do that or I wish I could sew like her, I'm just going to shut.up.and.sew.
So here's the plan: Each weekday, I will have a new project to share with you. Most will be tutorials I will attempt to follow from the pros out there in blogland, but some will be original things that I'm just going to try to figure out as I go. Then every weekend, I will do round-ups of different tutorials from around the web that fit the previous week's theme.
Yes, there are theme weeks - aren't you excited?!
So I hope you will join me in this crazy journey, complete with all my screw-ups, as well as my triumphs, and I hope at the end of these 31 days, you will be empowered with the idea that you, too, can sew!
Before I forget, I want to send out a big thanks to the
Nester
for encouraging everyone to take on this crazy experiment of writing on a single topic for 31 days. I'm excited to get started and I hope you all will hop on over to Nesting Place next week and check out what other people are writing about in the month of October!